$45 Beach Front Bungalow in #ngapalibeach and it took some searching to find. When I landed I had no hotel room and that is standard for me. I'm a fan of last minute bookings. You might score an epic deal and it's hard to be let down.
Most people get let down when they have these big plans in their mind and they don't play out. When you only expect an adventure you will get just that.
The main reason I didn't book prior to landing was that the epic places I was looking at cost around $180. These were 5 star plus. I'm writing a travel site about 6 star traveling. Anyhow I wasn't feeling it. I prefer to spend $100 super max if I'm traveling solo.
When I landed I invested $7 into having the taxi drive me to all the beach front spots. I had the great experience of seeing everything from $10 to $500 per night.
I found this one gem that was absolutely incredible. Great beach access, super laid back, incredible view for videos, free breakfast and I was the only guest that I could see.
The price was incredible with $45 per night as she gave me a small last minute deal. The family there is very welcoming and they took me to their other hotel for dinner.
Heck this is so good I might as well live here. Just do the math real quick. $1,350 for a beach front spot with daily breakfast and maid service.
I checked in, took some photos, shot 3 videos, did some design work, wrote a blog post and now it's 8:00 pm I hear the waves crashing and I'm getting ready to turn off all the Wifi and just relax and wind down.
This is the the lifestyle that I believe we all can truly live. The video I shot was about the Personal Brand Revolution. I'm creating the 2019 Beginners Guide to Digital Nomad Success called #4WeekLaunch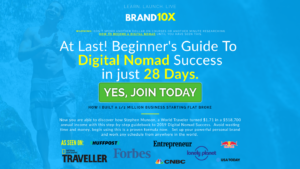 This is a guide to get someone into profit within 4 weeks of starting their own digital nomad business.
Let's connect and create your Signature Brand today. #digitalnomad #passportheavy #worldtraveler #brand10x
Click here to get started:
https://healaffiliate.com/go2/B10XLP_1740